The Most Common Employee Benefits - 2020
While salary is often considered the bulk cost of compensation, employee benefits factor into the equation heavily as well. Typical expected employee benefits can vary widely between different companies depending on several factors, including geographic locations, size, and industry.
ERI conducted its annual Benefits Benchmarking Survey in February with 67 participating companies from across the United States. The survey looks at the most common employee benefits provided by employers, as well as typical practices amongst businesses. In this article, you'll find a sample of highlights from the 250+ page full report, which can be purchased by following this link.
General Benefits
Employers usually grant general benefits to most full-time employees, whether executive, exempt, or non-exempt. Examples of these types of benefits include wellness programs, compressed workweek, access to a credit union, flextime, personal computers, and onsite childcare.
Notable beneficial employee programs offered by respondents that are not related to health insurance, life insurance, disability, retirement, and paid time off, are as follows:
| | |
| --- | --- |
| Benefit Offered | Percentage of Respondents |
| Job Sharing | 7% |
| Sabbatical | 13% |
| Flextime | 54% |
| Compressed Work Week | 21% |
| Telecommuting | 58% |
Healthcare Benefits
We found employers generally enroll their full-time employees (executive, exempt, and non-exempt) in a company-provided healthcare plan after one month of employment. There are three main types of health plans that employers offer. The most common is the Preferred Provider Organization plan, more commonly known as PPO, with 79% of employers choosing it as their primary health plan.
Most employers (84%) offer more than one healthcare plan to best fit an employee's needs. PPO is the healthcare plan in which most employees are enrolled (as opposed to HMO and POS):
| | |
| --- | --- |
| Type of Health Plan | Percentage of Eligible Enrollees Enrolled |
| Preferred Provider Organizations (PPO) | 73% |
| Health Maintenance Organization (HMO) | 16% |
| Point of Service (POS) | 8% |
The average monthly employee cost for Preferred Provider Organization plans for employee-only coverage is $109.02, which is up 4% from $105.21 in 2019.
Visit this link to order the full report and get more information on standard co-pays, prevalence of dental and vision benefits, average monthly employer and employee costs, health care eligibility requirements, and much more.
Life and Disability Insurance
While not usually seen as a draw for younger works, life insurance becomes increasingly important to employees as they age and gain more dependents.
The majority of respondents (91%) offer some form of basic life insurance to employees, while 82% offer supplemental life insurance. Supplemental dependent life insurance is offered by 79% of respondents.
Employee Leave Practices
Time off policies can vary wildly from company to company. It's not simply the number of paid days an employee can take off, but if the company will pay for jury duty or if a family member passes away (bereavement).
Fifty-two percent (52%) of respondents say they offer traditional leave plans, which typically consist of vacation, sick time, bereavement, personal leave, holidays, and floating holidays. The average number of fixed holidays among respondents with traditional leave plans is nine (9) days per year.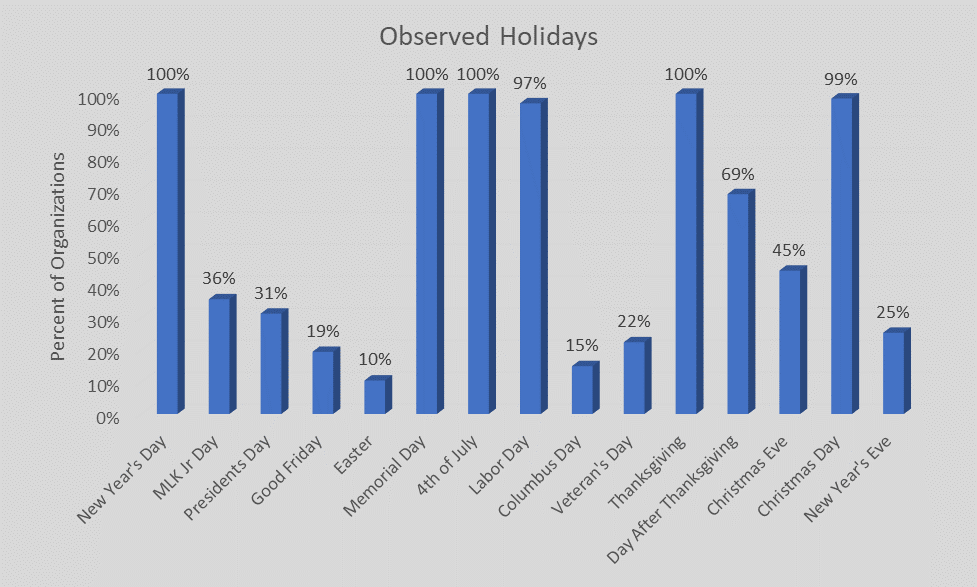 Many companies (48%) use a Paid Time Off pooling policy in which both sick time and vacation time is pooled into one system instead of accruing them separately. A majority said that the reason for this was ease of administration.
Retirement
Ninety-three percent (93%) of participating companies said they offer some type of retirement plan to employees. Of those providing a retirement plan, 73% offered a 401k plan, while 15% offered a pension plan.
Executive Perquisites
Sixty-nine percent (69%) of respondents offered at least one executive perquisite. The five most prevalent executive perquisites include Conference Registration Fees, Conference Travel Expenses, Association or Professional Society Dues/Membership, Car or Car Allowance, and Excess Life Insurance.
For more information related to benchmarking employee benefits broken down by company size, industry, and geographic locations, please visit this link to purchase the full report on employee benefits benchmarking.
If you are a business owner or HR professional and would like to participate in next year's benefits benchmarking survey, visit our Salary Surveys page for more information. Participants will receive a complimentary executive summary and a significant discount toward the purchase of the full survey report.